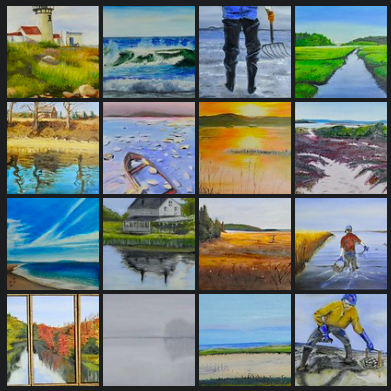 Oil paintings are on display for 1 month at Zumi's and will be auctioned off at Gathr on the evening of October 25th at starting prices of $200.00 for small paintings, $300.00 for medium size, and $400.00 for large paintings cash or check only. **All the proceeds will go to one of three non-profits at the choice of the purchaser. Checks made out to non profit selected.**
Non Profits:
1. Open Door Food pantry
2.Ipswich Music and Drama Association
3. Beverly Center Communication Disorders
About the Artist
Rick Silverman currently works in Ipswich at The Ipswich Center for Physical Therapy for over 30 years and lived in Ipswich for 25 years. Although he resides in Essex with his partner Kim Pedersen he keeps Ipswich close to his heart. Oftentimes found running, biking, kayaking or skiing in Ipswich trails and waterways. This keeps him close to nature and inspires many of the paintings in this gallery. Initially inspired by a portrait of his grandson Finn, his daughter Carly gave him a Father's Day present of oil paints. He then found his wife's Robin's former art teacher Paul George to show him how to use the oil paints in a natural setting. He acquired many of the photos were from friends including Phil Sachs, Nel Sogoloff and Karen Safford.
**If interested in purchasing artwork on the 25th contact Rick at:
[email protected]
**